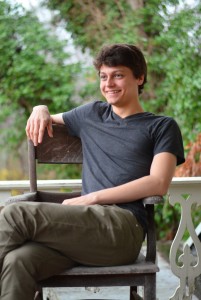 Will Burton-Edwards
A graduate of Sewanee: The University of the South, Will holds a baccalaureate degree in both General Physics and in Theatre Arts. While preparing for graduation, he auditioned for a role with Children's Theatre of Charlotte's Resident Touring Company and afterwards, he toured with them as an actor, dancer, musician, and sound technician for two years before transitioning to work full-time with Cornel Zimmer Organ Builders. His scholastically diverse academic background makes him a proficient woodworker, a progressive engineer, and an avid tinkerer, as well as a keen-eared musician. Born as a son of a Lutheran pastor and an Episcopal priest, Will grew up in and around churches, and is well-versed in the Anglican choral music tradition. Currently, he sings with the Choir of St. Peter's Episcopal Church in uptown Charlotte.
In the summer of 2017, Will volunteered in the set shop of the Springer Opera House where he learned basic MIG welding, a set of skills which broadens the possiblities of mechanical and structural components inside our organs. Through his work in other theatrical scene shops, he learned the payoffs of efficiency in the workplace while maintaining an eye for detail and quality workmanship. Will first started working with us in the summer of 2019, and already he has proven himself a valuable asset. We are immensely grateful to have him on our team.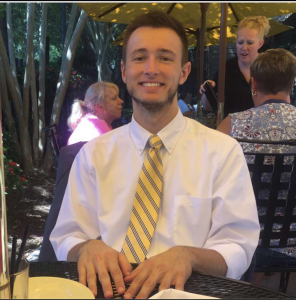 Jacob W. Hill
A graduate of Appalachian State University, Jake Hill holds baccalaureate degrees in both organ performance and sacred music and master of music degrees in organ performance and choral conducting. Currently, Jake serves as the Principal Organist at First Baptist Church of Winston-Salem, North Carolina and has previously held positions at other churches throughout the state including First Baptist Church of Elkin, Trinity Moravian Church in Winston-Salem and Baltimore United Methodist Church in East Bend.
In addition to his duties as a church musician, Jake has also appeared as a guest organist, performing in solo and collaborative capacities throughout the country in notable venues such as the Citadel in Charleston, South Carolina, for the Piccolo Spoleto Festival, Aeolian Manner in Houston, Texas and St. Mary of the Hills in Blowing Rock, North Carolina to name a few. Other performances include collaborating with several academic music programs throughout the state as an accompanist for choirs and musical productions as well as various ceremonies and services throughout the year.
Jake now resides in Charlotte, North Carolina where he joins Zimmer Organs with principal responsibilities focused in sales and proposal design, hearing the needs and desires of clients while working alongside the exceptional group of talented craftsmen, here at Zimmer Organs, to design and build the best instruments possible.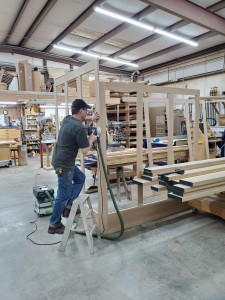 Jeff Keller
Jeff Keller brings over 25 years of experience to the wood shop. Following a brief apprenticeship in 1997, he went on to work for several millworks in and around the St. Louis area. He has a gifted eye for detail, but with a strong focus on efficiency. Over the years, he has picked up seemingly hundreds of "little tricks" of the trade to make his work faster, more precise, and less strenuous. As such, Jeff excels at the assembly of wind chests, chest framing, and façade work.
Jeff lives with his wife Sylvie in Harrisburg where they enjoy her family's long history of French cooking, his passion for the guitar, and their mutual love of travelling.
Chip Mays
Chip joined our firm officially in June of 2016, but has been working with us on various projects since 2014.  Chip is a brilliant organ technician who brings many skills of organ building to our firm, specifically in the area of console and chest wiring.  A native of upstate South Carolina, Chip holds a BS in biology from Furman University, Greenville, SC; a BA in music from Anderson College, Anderson, SC; and a Master of Church Music from Erskine Theological Seminary, Due West, SC. He currently serves as Music Director and Organist at the Episcopal Church of Our Saviour in Rock Hill, SC.  In addition to music, Chip enjoys architecture and modern design, antiques, good beer and bourbon, and hiking. He has a beautiful daughter, Mary Banton, who lives in Greenville, SC.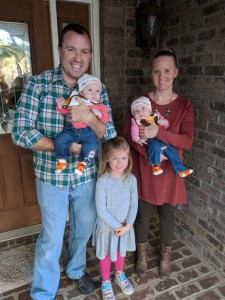 Aaron Pannebaker
Aaron joined Cornel Zimmer Organbuilders in the summer of 2006 after graduating from Lenoir-Rhyne University with a Bachelor's Degree in Music Education along with a North Carolina Educator's License in Music Education (K-12). Aaron began working at CZOB as apprentice to our Master Cabinetmaker.
After a year in the organ building industry, he decided to accept a band director position at Bunker Hill High School in Claremont, NC. While there, Aaron grew the music program adding a handbell ensemble and jazz band to the Symphonic and Marching band curriculum. During his four years as a teacher, Bunker Hill received many accolades and Superior ratings at State Adjudicated functions and Marching Band competitions. Aaron continued working part-time at CZOB while he was teaching, spending his free time and summer break helping out around the organ shop. Aaron decided to come back to CZOB full time in the Spring of 2011.
Aaron's primary function is general shop manager with an emphasis in the woodworking division. He has always loved woodworking as a hobby, building furniture for his friends and family, and he has an innate ability in the critical applications of woodworking in building consoles, casework and windchests. Aaron is responsible for CZOB's purchase of a CNC router. He learned and excels at programming this vital piece of equipment that marries the art of woodworking to the critical efficiency needed to compete in a competitive atmosphere.
As a result of his passion for the work and his demonstration of skill, knowledge and work ethic, Aaron became a substantial shareholder of Cornel Zimmer Organbuilders in 2012 and is currently serving as Vice President of the firm.
Aaron lives in Lincolnton, NC with his wife Anna, and beautiful daughters Sophie, Brenna, and Regan.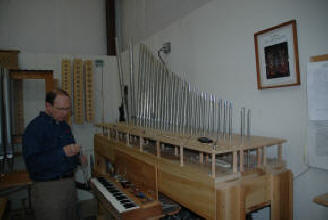 Jim Twyne
Jim Twyne graduated from East Carolina University with a degree in church music. In 1972, he moved to Charlotte, NC and started to work with the Zimmer family where he gained a wealth of knowledge in chest assembly, wiring, pipe fitting, and other organ assembly procedures. He also spent 20 long years on the road doing seasonal maintenance and tuning. In 1975, he moved mainly into the tonal department of the business where he was put in charge of voicing of pipes and tonal finishing on site. In 1995, he joined Cornel Zimmer Organbuiders as the tonal director.
Since his joining the company, Jim has been a key player in managing the complicated process of organ building. Jim is knowledgeable about all aspects of organ building and his guidance and advice is appreciated by all at the shop. He is responsible for shop voicing all new and vintage pipework and onsite tonal finishing of pipe and digital voices.
Working together with Cornel, Anthony and clients, Jim designs and draws up tonal specifications for new organs. He then creates scaling information for new pipes as well as choosing and assigning digital voices for organs that make use of the latest technology from Walker Technical Co.
Jim's knowledge and experience as an organist gives him the insight to assist in console layout and design. Being of average size and build, Jim also serves as our "average organist" model whenever a question of ergonomics comes up.
Jim and his wife, Melanie, are active in the music program of their church, First Presbyterian Church of Charlotte. Their contributions to the church include singing in the choir, ringing handbells, and accompanying the children's choir. When not traveling, Jim will sometimes play as substitute organist.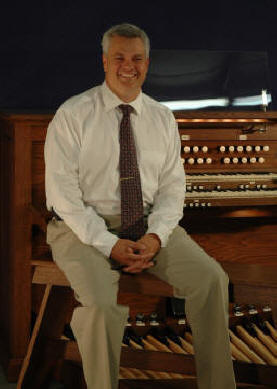 Cornel Zimmer
Cornel Zimmer represents the fourth generation of organbuilding in his family. He began working with his father at an early age helping to tune and service organs on school holidays and summers.
He attended the University of North Carolina at Charlotte for two years as an Accounting Major before returning to work as a full time organbuilder at the family firm of W. Zimmer & Sons, Inc. in June of 1981.
Cornel was active with the American Institute of Organbuilders throughout his career and attended most annual conventions, workshops, seminars, etc. He has been a member of AIO since 1984.
In 1984, he spent time as an apprentice voicer at Carl Gieseke & Sohn in Gottingen (West) Germany. While in Europe for an extended period of time, Cornel had the opportunity to visit and study historic instruments throughout Germany and Holland. He also visited several organ builders and their factories/shops in Germany, Holland and Belgium.
Upon his return to the states, Cornel spent the majority of his time at W. Zimmer & Sons in the tonal department participating in the shop voicing of pipes as well as on site tonal regulation of new instruements.
Much to his chagrin, Cornel was also charged with maintaining the books and keeping all the accounting records for the firm. In 1987, Cornel was responsible for the research and purchasing of computers for the company. He learned to excel in many programs ranging from word processing, to spreadsheets, accounting and drawing programs.
In 1990 – 1991 Cornel Zimmer served as the Vice President of the Associated Pipe Organ Builders of America as the representative for W. Zimmer & Sons, Inc.
Cornel spent many years tuning, servicing and maintaining hundreds of pipe organs of all makes and styles in the American Southeast. This was especially important in his formative years as an organ builder. Not only did he learn many good and interesting ways of building pipe organs, he also suffered with the mistakes of others in tonal layouts, poorly executed mechanical systems, sloppy workmanship and limited access.
In June 1992 he left the family firm of W. Zimmer & Sons, Inc. to pursue his own ideas and philosophy of pipe organ building. With the blessing of his father, Franz J. Zimmer, he started his own company, C.A. Zimmer, Inc. (dba Cornel Zimmer Organbuilders) and began the process of formulating his own ideas of tonality and construction techniques which also included digital technology both in console control as well as tone generation. In 1995, CZOB built their current building and purchased the pipe shop from W. Zimmer & Sons.
Since then, Cornel Zimmer has surrounded himself with the best and brightest talent that the organ industry has to offer. Together, they have built nearly 150 instruments, bringing the highest standards of pipe organ building to the world of digital and combination instruments in addition to their lifetime passion for the pipe organ.